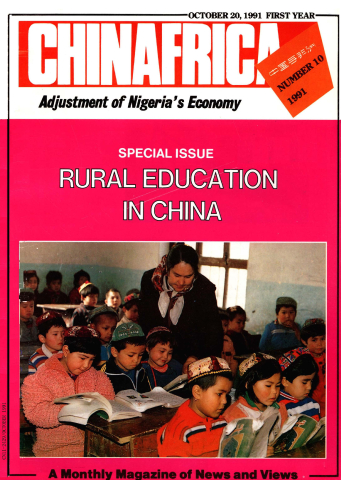 Directory Of Year 1991, Issue 10
Mengcun 'Bajiquan'
Year:

1991

Issue

:10
Column:

SPORTS
Author:

ZHANG QINGZHEN
Release Date:

1991-10-20
Page:

53,54
Full Text: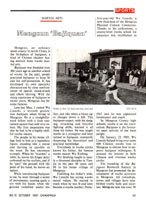 Mengcun, an ordinary small county in north China, is the birthplace of bajiquan, a kind of Chinese shadow boxing derived from wushu martial arts.
Bajiquan was founded over 300 years ago as another school of wushu. In the past, people practiced bajiquan to keep fit and for self-protection. It has developed its own specialty characterized by close confrontation of special shock-attack and elbow shoving. With the rising reputation of bajiquan in recent years, Mengcun has become famous.
Late last May, I visited Wu Lianzhi, a seventh generation bajiquan adept living in Mengcun. He is a straightforward fellow with a dark suntanned square face and very robust. My first impression was that he had to be a highly skillful wushu master.
The people in his home village look to him as a legendary figure, standing like a statue and moving as quickly as the wind. He has enormous strength. When he "touches" a table, he leaves his finger print embossed on the surface, and if he "pats" the ground with the palm of his hand, he leaves an indent.
While introducing bajiquan to me, he went through a series of movements, causing quite a stir with his hands while the ground trembled under his feet, just like when a fierce tiger charges down a hill. This bajiquan expert, with his dodging, attacking and forceful fighting skills, learned it all from his father. He was taught wushu as a youngster and later turned to bajiquan, constantly deepening his theoretical and practical knowledge.
Everybody in wushu circles knows his father, the famous wushu master Wu Xiufeng.
Wu Xiufeng taught to nearly a thousand disciples in Tianjin in the past 40 years and 80 in his home village of Mengcun.
Fulfilling his father's wish, Wu Lianzhi has strong wushu moral values. He started to teach when he was 18 and later became a wushu teacher. Forty-
five-year-old Wu Lianzhi is now chairman of the Mengcun Physical Culture Committee. Thanks to his enthusiasm, a county-level wushu school for amateurs was established in 1983 and he was appointed headmaster and coach.
In Mengcun County high schools, wushu is on the curriculum. Bajiquan is the favourite sport activity of the local people.
On January 22, 1985, Wu Lianzhi helped bring over some 600 Chinese wushu fans to Mengcun to discuss how to improve bajiquan techniques. It aroused the interest in both Chinese and overseas wushu circles.
The founding of the Bajiquan Research Society in Mengcun has promoted the development of wushu activities in Mengcun. All townships, towns and villages have established wushu halls and societies. Mengcun now has over 30 wushu halls and societies. Bajiquan followers trained by various wushu organizations have made remarkable achievements in county, provincial and national wushu competitions. Many have become champions in national competitions.
The general wushu fad produced wushu masters all over the county and townships. In Mengcun's large or small townships, villages, factories, schools and government offices, whether at the break of dawn or at dusk, people can be seen in groups of three to five performing wushu. Among students walking home or farmers working in the fields, there are always wushu enthusiasts seen kicking, boxing, swinging spears or poles. The Hui minority people often gather before or after prayer to practice baji-quan together. The scene is impressive and lively. Among the people are some very old masters as well as preschool children.
The disciples of Mengcun particularly pay attention to conscientiously practicing basic skills such as "ramming against a tree" and "pushing a partner to and fro with two hands." Chang Yugang, a follower of Wu Lianzhi, said, "To learn how to squat, one should practice for at least three months. If one cannot bear this, then baji-quan is out of the question for them."
Following the rising fame of bajiquan, many foreign friends came to visit Mengcun. Since 1986, Wu Liangzhi has been invited each year to Japan to give lectures.
Wu Lianzhi has made in-depth research on the theory behind bajiquan and has written, together with a Japanese friend Wu's 'Bajiquan' (in Japanese). Japanese wushu circles have adapted the book to a TV educational film.
In recent years, bajiquan has spread to the United States, Germany, Italy, Australia, Singapore, Hong Kong and others. In China, it has undeniably become one of the most popular boxing disciplines.
---
WORLD JUNIOR SOCCER CHAMPIONSHIP
Another African Victory
During the first World Junior Soccer Championship (age 17 and less) that took place in Florence from August 17 to 31, the Ghanaian team won the championship, beating the Spanish team. On their part, Argentina and Qatar carried off the third and fourth place respectively.
Once again, as in the Italian Cup, the African players have shown what African soccer is all about.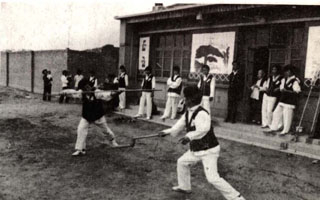 People in [heir 70s keep exercising every day. XIN HUA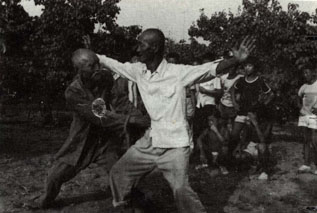 Wushu amateurs at exercise. XIN HUA