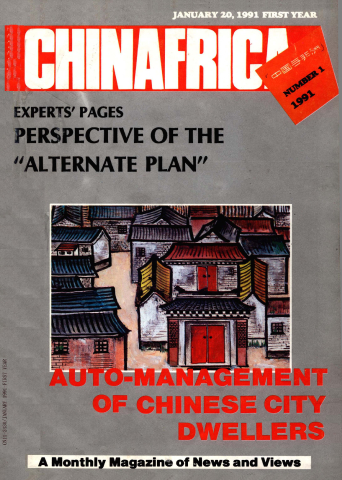 Directory Of Year 1991, Issue 1
Niujie Street, Beijing's Largest Islamic Community
Year:

1991

Issue

:1
Column:

SPECIAL FEATURES
Author:

LIANG HONG
Release Date:

1991-01-20
Page:

37,38
Full Text: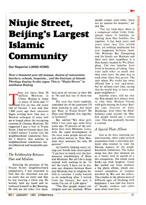 Near a thousand year old mosque, dozens of restaurants, butchers, schools, hospitals... and the Institute of Islamic Theology display Arabic signs. This is "Niujie Street" in southwest Beijing.
There are more than 50 million Moslems in China. Beijing is home to many of them and 13d live on this old street full of flavour. I was told that 1,000 years ago their ancestors began settling here. One day, a Moslem colleague of mine told me at length about the intriguing customs of Chinese Moslems. He suggested I pay a visit to Niujie Street. I had no friends there, but it didn't matter, I could visit the neighbourhood committee first,for I believe that aunties inneighbourhood committees are warmhearted and hospitable people.
The Relationship Between Han and Moslem.
Entering the premises of the Niujie Street neighbourhood committee's, I was surprised to find that the chairman was not an aunty but an uncle and that he was wearing a white cap. He warmly held my hand and introduced himself as Bai Baozeng. He told me the other five members were all retirees in their 60s or 70s and that one of them was Han.
His very last word suddenly reminded me of the questions I'd been wanting to ask: Are there any Hans in Niujie Street? Do Hans and Moslems live together in harmony?
Bai smiled:" My dear girl, when I was your age, some forty years ago, 95 percent of the residents here were Moslems. Later, with the rapid development of the area, some people moved out and others moved in. Now Moslems here accounts for only 80 percent."
An healthy looking aunty sitting just beside him interrupted: "I am here to watch over the harmonious cohabitation of Hans and Moslems. But all I do is hang around with nothing to do. To tell the truth, I have yet to witness any disputes between Hans and Moslems due to religious beliefs or customs. I really wanted to do something after I retired from the factory, but now it seems I'm out of a job again."
"The Han people respect our religion and our customs. When people respect each other, there are no reasons for disputes," added Bai.
"Not far from here, there is a compound called Unity Compound, where 12 families, including three Han families, live together. It has been years and years since they first settled here, yet nothing unpleasant has ever happened between them. The Moslems Bai Zhengdong and his family are Moslems and their next door neighbour is a Han family headed by Wu Zhenghua. The two families have lived in harmony all along. They trust each other so much that they even leave the door key to each other when they go out. The unit where Wu works has twice offered him a new apartment, but he refused each time, saying that he would hate to leave such good neighbours."
Another aunty told me that the Han people here always went to visit their Moslem friend swith gifts during the Lesser Bairam (the Festival of Fast-Breaking). And when the Hans' holidays came around, the Moslem people would pay a return visit. This has gradually become a custom.
A Special Photo Album
Just as we were enjoying our conversation, there came several journalists from a television network who wanted to visit the Dating Agency of the neighbourhood committee. The funny thing was that they mistook me as a lonely soul in search of a life companion. The whole room broke out with laughter. Uncle Bai pulled out from nowhere a big photo album, which contained snapshots of couples matched by Bai and the others. The couples in the photos were of different ages, all blushing with happiness. I was told that letters of thanks, cookies and cakes were often sent here.
As luck would have it, when I closed the album, a woman in her 50s came from the other end of the city to express her gratitude to Bai and his team. She explained to me: "There are few Moslems in the area where I live, nor are there any in my son's working unit, so that my son, a very shy man nearing thirty had not yet found a fiancee. Someone told me about the warmhearted people in the Niujie neighbourhood committee. I went to see them and several days after, my son met here a nice girl. The following half a year proved that the two young people were made for one another and they finally got married just last week." Uncle Bai had been invited to the wedding ceremony. As the woman appreciated her daughter-in-law more everyday, she had come again to express her gratitude. While talking, she handed out a package of cookies.
Leaving the neighbourhood committee, I decided to meet some of the local residents. When they learned that I wanted to write about the neighbourhood committee, they all told me:"-Don't say that they're old. They're as energetic as the young people in helping the residents."
A primary school teacher told me the following story: There was this family, a Moslem man and his Han wife, who lost their two-year old son. Stricken with grief, they could not agree as to the funeral arrangements. The husband insisted on a traditional Islamic funeral, while his distraught mother-in-law made several colorful clothes for her grandson, according to Han customs. Each stuck to his or her belief. When Uncle Bai learned about it, he went several times to see the grandmother. He comforted her and tried to cheer her up by telling her about Moslem customs. Finally, the old woman agreed to have the Moslem Funeral Service Station baptize the boy, invite the Imam to read from the Koran, wrap the body in white cloth and bury the child in the ground. She herself and other relatives attended the funeral.
The Old Folks' Home Was Not Deserted.
Later on, I followed another resident to the old folks' home set up by the Niujie neighbourhood committee with the help of the government. It seemed to me that the old people there were not the slightest surprised at my sudden visit. Some of them were sitting in the spacious courtyard, bathing in the sun and chatting. In their arms or on their laps were several lovely children eating bananas and apples while older children were singing and dancing. The elderlies lived on the first floor of a two-story building in the far end of the courtyard with a bedroom each. An 86 old man, healthy and full of wit, told me:" I have no son or daughter, but I don't feel lonely at all."
The director here was also a man of 65. Once an army doctor, he now often examines and cures people. He had a good command of acupuncture and qigong and this helped him save quite a few lives. He told me that the old folks' home was not profitable but received a considerable sum from the government to improve the food and health care.
In the midst of pressing affairs, the neighbourhood committee members have never forgotten the old people who happily spend their remaining years here. They often come and listen to the elderlies's views and talked to them to fill up their time. Besides, students in a nearby primary school voluntarily donate part of their pocket money each week to buy fruits or cookies for the grandpas and grandmas in the old folks' home. The children also entertain them with dances and songs, and telling them stories and jokes.
On my way back from Niujie Street, I ran into Uncle Bai again. He was hurrying to send an admission notice to an unemployed young man who missed work opportunities because of illness. The neighbourhood committee had found him a well paid job. I was so touched I couldn't find the right words to thank this old man always busy helping others. Bai seemed to be able to read my mind, so he said:" My girl, one is most afraid of uselessness when one gets old. I am really happy and proud from the bottom of my heart because now I can do something and make others happy."
Gazing at his disappearing figure, I silently wished that he would be happy forever.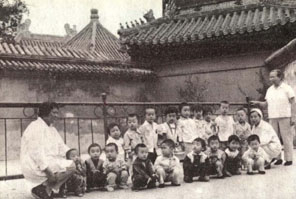 Children in neighbourhood committee nursery. NIU JU