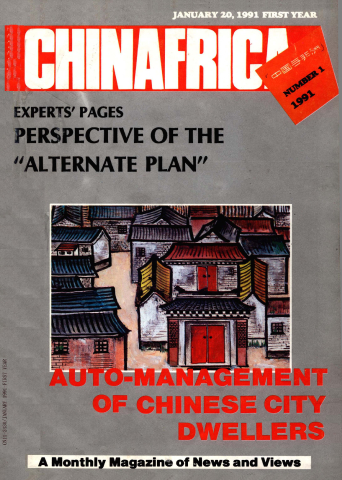 Directory Of Year 1991, Issue 1
Tianqiao's Helpful Neighbours
Year:

1991

Issue

:1
Column:

SPECIAL FEATURES
Author:
Release Date:

1991-01-20
Page:

39,40
Full Text:
Tianqiao is in the southeast Xuanwu district in Beijing. It has 17,852 households with 54,837. and is administered by 30 neighbourhood committees.
For the past few years, Tianqiao's subdistrict office has solved many problems for its residents. Ninety-five public welfare services were established, including homes for the elderlies and neighbourhood service centres, and 52 social services were provided such as groceries, repairs, and lunches for schoolchildren.
Handicapped by a shortage of personnel and other conditions, these services are still far from meeting all the residents' needs.
To solve the problem, the Tian-qiao area set up in August 1989 the "Neighbourhood Mutual Help Association", and has established 25 branch associations in the neighbourhood committees, recruiting more than 500 members. Now the whole area has a service force of 1,000 residents and 100 units.
In the Tianqiao area, the Neighbourhood Mutual Help Society provides the following services:
A) Mutual Help-Service Exchange. Ye Yuyun, a retired teacher, helped his neighbour's pupil with his lessons. After several months' of careful guidance, the pupil was admitted to a key high school of the district. The parents were very grateful. Noticing how old and weak Ye and his wife were, with no children around, they decided to help them with the household chores: they bought vegetables and grain and cleaned up their house. After several months of help, the two families grew fond of each other. Today they are on very good terms, like close relatives.
B) One-Way Service. One family accepts the help of another family without any obligations. There are two kinds of one-way service. First, help is given to a specific family. Second, designated people help whoever asks for it.
Fan Jinmao, a gas station attendant, repairs gas ranges voluntarily for whoever needs it. So far he has repaired nearly 100 private gas cookers in more than 10 neighbourhood committees. This one-way service has no limit and deals with almost anything.
C) Comprehensive Services to a Designated family. This service is mainly directed at lonely elderlies. The Tianqiao area was the first to offer the service in 1983, infusing new vigor to the mutual help service.
Units, neighbourhood committees and neighbours share the same services and co-operate with one another on a voluntary basis. Lonely old people, childless couples, families of revolutionary martyrs and soldiers, physically and mentally handicapped people, and families with financial difficulties can all benefit from these services. Every committee co-operates with the work units in its area to find out which services are needed and what can be done. Each committee has a service book and families keep record books.
D) Set Services. Set services provide help for residents at all time. These include repairs, hair cutting, dressmaking, sewing, washing and entertainment. Inorder to solve the lunch problem for pupils, one committee set up lunch tables for school children, for which parents are most grateful.
E) Central Service. This service offers help in set places at set times.
F) Mutual Services Between Work Units and Residents. Making use of their business advantages, work units provide services for residents. For example, the Beijing Radio Instrument Factory decided on its own accord to repair the radios, TV sets and bicycles for local residents. Now over 100 work units in the area render services for the residents.
In return, residents help work units, by supporting their work and solving problems for staff and workers. Yonganlu market had no nursery for the staff's children. When the Yonganlu neighbourhood committee heard of the problem, it overcame difficulties to enroll four children of the staff.
Helpers are mostly volunteers. Some of the services are rendered for a fee, but usually these are very low.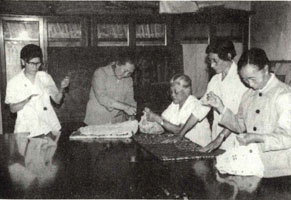 Elderlies making clothes for neighbourhood children. NIU JU