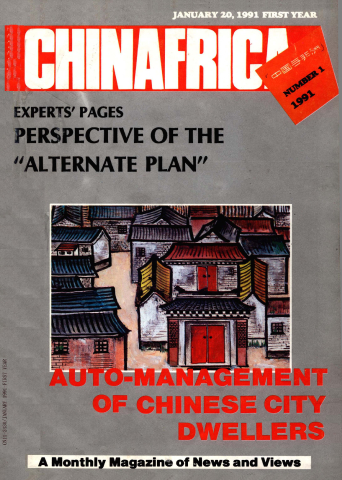 Directory Of Year 1991, Issue 1
Mannequin and Head of a Neighbourhood Committee
Year:

1991

Issue

:1
Column:

SPECIAL FEATURES
Author:

LIANG HONG
Release Date:

1991-01-20
Page:

43,44
Full Text: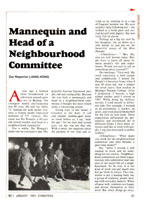 A year ago, a fashion show broadcasted on television caused quite a stir in Beijing. The youngest model participating was 40 years old and the oldest 72. Among the gold medal winners, a female model impressed millions of TV viewers. Her name was Du Wanqin, a 60-year old retired teacher and head of a neighbourhood committee.
For a while, Du Wanqin's name was on everyone's lips. Her graceful bearing fascinated people, old and young alike. Because she was both a mannequin and head of a neighbourhood committee, I thought her story would make a interesting article.
Going over to her house, I knocked at the door. A tall and slender middle-aged woman stood before us. I say "middle age," for her hair had turned grey, yet she was not that old. With a smile, she inquired about the purpose of our visit and in vited us in, treating us to a cup of fragrant jasmine tea. My eyes couldn't help following her—she walked at a brisk pace and carried herself with dignity. She was truly full of charm.
Picking up a big toy sent by her daughter, she sat down on a sofa beside us and put on the beautiful music of the Blue Danube
<<Chinafrica>>: " Mrs. Du,you are well known today. People want to know all about famous people's life and experiences. Would you care to tell us something about yourself?"
Du (smiling): "Very well. My work experience is both simple and complicated. I joined the People's Liberation Army when I was 20 years old, was a soldier for seven years, then studied in Beijing's Normal College. After 1 graduated, I became a highs school teacher until I retired in 1987. While doing my military service, I tried myself at different jobs. For example, I worked as an accountant, a teacher, an actor, and even played basketball for the first air unit team. These experiences influenced my personality and introduced me to different fields. I have many interests and like to work with people. I am also interested in public welfare."
<<Chinafrica>>: "What made you work for the neighbourhood committee and then become a part-time model?"
Du: "After I retired, I still wanted to work and do something for our society. Neighbourhood committees are local organizations who administer and take care of the social life of a neighbourhood. To be true, it is the kind of work you put much into but get little in return. The committee is not a leading body but a group of ordinary people dealing with everyday matters. When all goes well, residents are happy and devote themselves to their work. But when things go awry, they have no one to help them solve their problems. And too many problems create social disruption. When asked to join the committee, I hesitated for awhile, but after consideration, I accepted."
<<Chinafrica>>: "It seems that most of the committee members are retired workers with a low cultural level. Though they are enthusiastic, they sometimes lack manners and do not fully win the support and understanding of some residents. Have you seen any changes since you work for the committee?"
Du: "Compared with the past, the cultural level of the residents have increased a lot. Take our street for example. There are many intellectuals living there. Our work methods need to improve, and more and more retired intellectuals are needed in the process. As you mentioned just now, some of the cadres lacked manners, but not any more. You might have seen the film A Woman Called Yao Jinlan. It deals with every day people and events. The heroine, Yao Jinlan, is a warmhearted and skilled neighbourhood committee leader."
<<Chinafrica>>: "Are there more intellectuals willing to participate in this kind of work? For it is very diversified, and intellectuals are very specialized. Are they really interested?"
Du: "Sure they are. This work offers many opportunities and is very varied. For example, you could be repairing road lights; dredging a blocked sewer; solving disputes between neighbours; taking care of public health; solving difficulties for the disabled; introducing friends to single elderlies... All these things should be taken into account. Solving small problems means much to people. Some retired intellectuals would like to work, while others want to promote public welfare."
<<Chinafrica>>: "Just like you."
Du (laughing): "Yes, but more experienced than me in public relations. They like to participate, and want to help us. I am sure that with the increasing cultural level of the whole society, there will be more and more educated seniors joining the committee, helping us improve our work methods."
«Chinafrica>>: "Now, would you tell us something about the fashion show team. For instance, what made you hold a fashion show for elderly people?"
Du (delighted): "In foreign countries, fashion shows are very common, but most clothes are designed for young people. In China, clothes for young people have become very stylish and varied. But for senior citizens, styles and colours have remained dull though material conditions have definitely improved. Senior citizens wanted nicer clothes, but no company catered to their needs; thousand years of feudal thoughts confined the colours and design of their clothes to the old style.
Some people wanted to change this by organizing fashion shows for the elderlies and by designing and producing fashionable clothes to arouse public opinion on senior clothing. The fashion show obtained a lot of success while entertaining the crowd."
<<Chinafrica>>: "How did you join the fashion team?"
Du: "It was easy. Being old myself, I also wished for nicer clothes. After I saw an ad in the newspaper asking for models for the first senior fashion team, I applied. From 500 candidates, only 80 were selected after the first round; after a period of training, a dozen or so had the honour to be admitted. I was very happy to be one of them, though winning the gold medal in the senior fashion show competition this Spring Festival was even more rewarding."
<<Chinafrica>>: "We saw your performance, it was nice, you really deserved winning. Are |there any contradictions between your two jobs, modeling and leading a neighbourhood committee?"
Du: "Well, I don't think they go against each other. First, entertaining people is part of the committee's function. Modeling, on the other hand, can influence people's views and interests. Many came to me to discuss the impact of clothing on one's mood. Some asked me to design patterns or borrowed my own. The most inspiring thing is that they asked me to organize a fashion show for them.
Second, taking part in this kind of activities helped improve the image of committee cadres. Working on day-to-day matters keeps people young at heart.
Third, because I have the full understanding and support of the residents, I can arrange my schedule to accommodate both. "
<<Chinafrica>>: "Residents in your street must be proud of you."
Du (laughing): "Well, I think they like me and support me. After I won the medal, some of them brought me a cake to celebrate. We have become closer, and they now trust me more."
We were interrupted by a middle-aged woman annoucing the arrival of the Asian Game torch. Residents here took part in the 11th Asian Game torch relay. Being a well known cadre, Du welcomed the torch bearer on behalf of the residents of her street.
We had to say good-bye. Du Wanqin held my hand and said" I am always rushing around, but I hope you will come again and see the fashion show held in our street."