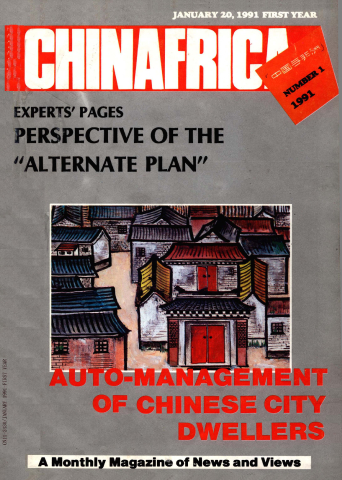 Directory Of Year 1991, Issue 1
■ I would like to make the following suggestions for the improvement of CHINAFRICA magazine.
1. An increase in the co-authoring of articles by Africans, especially by renowned academicians. This will give the magazine more authenticity, legitimacy and acceptance, since African authors will be in the best position to know of and understand African problems. Any reasonable and unbiased co-operation can only be achieved when a common ground, taking into account socio-economic, political, and religious attitudes and peculiarities of the parties concerned, has been established.
2. Expansion of the Sports Column, to give wider attention to spectacular successes, areas of deficiency or innovation, sports' injustices, as well as areas of common interest in Chinese/African activities.
3. Inclusion of a "Cultural Fashion" column to give attention to African traditional legends and Chinese costumes and architecture, as well as their development through out the ages.
4. Denouncing the evils of apartheid, racism, segregation and all forms of injustice which have in the past been the instruments of suppression, slavery, intimidation, relegation etc. of non-Caucasians, especially of Africans and Chinese.
5. Encouragement of"contact co-operation" involving inter-continental visits in the form of tourist activities, exchange programmes and the like, to get people more familiar with the traditional ways of life, social activities etc., aspects which have for long been subjected to massive misrepresentation and ridicule in the past.
It is my hope that these suggestions will receive the attention they deserve.
MR.D.D.C. OKORO
NIGERIA
■ CHINAFRICA is a commendable publication that has its place in Africa. It has succeeded in exposing the progress achieved in the economical, cultural, commercial, health, and agricultural fields, in spite of many difficulties.
Furthermore, CHINAFRICA can play an important role in the exchange of experiences carried on in China, Africa and other parts of the world, contributing to the development of our countries. It is thus very important to improve, enrich and propagate this Chinese and African publication. We wish to express our sincere thanks for your efforts and hope you will continue in the same vein and with the same enthusiasm.
NYANGE LUDWENYA
ZAIRE
■ I believe CHINAFRICA to be a friend of my people. I read with interest all the articles and would like to exchange my points of view with you and suggests ways to improve the publication. All in all, I like this publication which displays a great friendship to the people of the third world.
I am neither a writer nor a journalist, but I wish you to consider me a friend. If you ever come to Zaire, please come and visit me in Tshikapa.
M UKENGESHAYI-MUANA
ZAIRE
■ You should introduce a penfriend section for readers or a Readers voice section in which readers could send articles for you.
MUSA AMINU
NIGERIA
■ For the last decades, we have been inundated with magazines dedicated to Africa, many of which were frequently biased. People were further searching for magazines with genuine presentation and content reflecting the true pictures of Africa, its diverse culture and political setups.
I was really surprised when I came across your new magazine CHINAFRICA by the great care and concern you have undertaken to come up with a thoughtfully illustrative, elegant and interesting magazine like this.
Mr. G. SHIFERAW ETHIOPIA