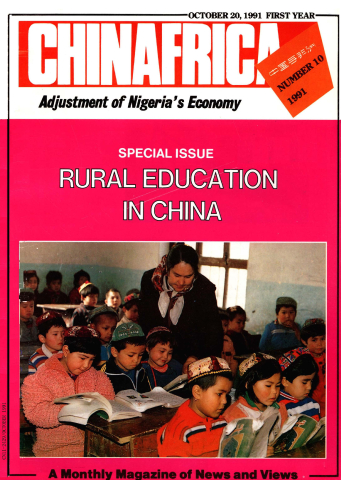 Directory Of Year 1991, Issue 10
CHINA
Flood Victims Rebuilding Homes
Now that the waters have started to recede, a large scale campaign to reconstruct homes and resume production is in full swing in the flood-stricken areas of China.
Millions were left homeless by severe floods in June and July. In Lixiahe Prefecture, Jiangsu Province, 230,000 homes were damaged, leaving 1.8 million people homeless. In central China's Anhui Province, more than three million people were stranded.
But by the end of July, Jiangsu Province had replanted 120,000 hectares of dry crops, or 66 percent of the total acreage to be replanted. In Henan Province, flood victims replanted 750,000 hectares of autumn crops. In Lixiahe Prefecture, more than 60 percent of the flood victims have returned to rebuild their homes. Anhui Province has set up 730,000 shelters for more than three million flood victims.
On August 8, the Jiangsu provincial government launched a drive to raise money for people who cannot afford to rebuild their homes, and by August 11 more than three million yuan were raised.
John Major in Beijing
British Prime Minister John Major paid a three-day visit to China in September. This is the first government head from a West European country to tour China since the latter half of 1989.
During a courtesy meeting with Major, Chinese Premier Li Peng extended a warm welcome to Major. The two men exchanged views on the Hong Kong question, bilateral relations and international issues with an aim to deepen mutual understanding and further bilateral ties.
China Establishes Ties With Baltic Countries
China has established diplomatic relations with there countries — Estonia, Latvia and Lithuania.
China and these countries all agreed to develop friendly and co-operative relations on the basis of the Five Principles of Peaceful Coexistence (mutual respect for sovereignty and territorial integrity, nonaggression, non-interference in each other's internal affairs, equality and mutual benefit, and peaceful coexistence).
The Baltic countries recognize the government of the People's Republic of China as the sole legal government of China and Taiwan as an inalienable part of the Chinese territory. They undertake the obligation not to establish official relations or engage in official contacts with Taiwan.
AFRICA
West Sahara Cease-fire
A cease-fire in the Western Sahara appeared to be holding on September 7, a day after the United Nations proclaimed formal peace in the territory torn by war for the past 15 years.
Morocco and the Polisario Front both said they would respect the cease-fire in the thinly-populated former Spanish colony. A 2,800-strong UN force of soldiers and civilians will organize a referendum in January to enable the people of the phosphate-rich territory to decide on self-rule under Polisario or integration with Morocco.
Some 80 soldiers are now in the town of Sara, 155 kilometres east of Laayoun, as observers.
Polisario Chief Mohamed Abdelaziz said at a news conference on September 6 that his guerrillas would scrupulously respect the cease-fire.
SADCC Summit in Tanzania
The 11th annual summit of the Southern African Development Co-operation Conference (SADCC) ended on August 26 in Arusha, Tanzania, after discussing strategies for regional co-operation in a postapartheid era.
Tanzanian President Ali Hassan Mwinyi urged member countries to strive for collective self-reliance. "The persistent economic crisis in Africa is a reminder that the immediate struggle before us now is economic liberation."
Members of the SADCC ministerial council stated that they will identify options and strategies for regional cooperation. Leaders of the 10-member organization also decided to establish a joint planning committee, comprising representatives of all member states and the liberation movements to direct this work.
Participants called for the international community's continued economic assistance and upholding of sanctions on the Pretoria government to ensure that the process of change and negotiations leads to the establishment of a non-racist and democratic South Africa.
African Candidates for UN Leadership
Africa has officially submitted to the UN the names of its candidates for the next UN Secretary General. They are, in alphabetical order, Bernard Chidzero of Zimbabwe, Kenneth Dadzie of Ghana, Boutros Ghali of Egypt, James Jonah of Sierra Leone, Olusegun Obasanjo of Nigeria and Nguema Francois Owono of Gabon.
In a joint letter addressed to the president of the UN Security Council, chairman of the African group Nabil Elaraby of Egypt and the representative of the OAU Ibrahim Gambari of Nigeria hoped that the international community would give an African the opportunity to serve in the highest position of the world organization. They believed that any one of these candidates "will serve with the same distinction as those Africans who have occupied other high positions in the UN system."
CHINA-AFRICA
China Calls for More World Aid to Africa
China maintains that the African people should choose their own course of development in light of the continent's specific conditions.
"To copy fixed models disregarding the actual conditions in Africa can only aggravate the difficulties," Li Daoyu, Chinese ambassador to the United Nations, said at a meeting on the UN Programme of Action for African Economic Recovery and Development (UNPAAERD).
He added that respect for the choice of African countries and their peoples should be the starting point for drawing up a new plan of co-operation between Africa and the rest of the world.
Noting that Africa has in the past five years received less attention in international economic co-operation, the ambassador asked the international community to accord "sufficient importance" to Africa's development.
He also urged an increase in financial flows to Africa and practical steps to stabilize commodity prices and promote diversification of African exports.
The ambassador pointed out that in the five-year period, China has provided economic and technical assistance to 47 African countries, completed 117 projects and undertook 459 technical ones. It has also actively participated in multilateral UN aid to Africa, having signed 118 technical assistance projects with three regional organizations and 39 countries.
Namibian Prime Minister in China
Namibia's Prime Minister Hage G. Geingob paid a week-long official goodwill visit to China as guest of Chinese Premier Li Peng.
During his visit to Beijing, both men held very important talks and agreed on a wide range of issues. Li and Geingob also signed an agreement on economic and technical cooperation between the two countries.
Geingob and his party also toured Shanghai, Guangzhou and Shenzhen.
INTERNATIONAL
NAM Calls for New Economic Order
The 103-nation Non-Aligned Movement (NAM) held its 10th ministerial conference in Accra, Ghana, in September.
The four-day meeting was called to shape a new role for the 30-year-old organization.
Indonesian Foreign Minister Ali Alatas, speaking for Asian member states, said economic issues should be the organization's primary concern in a new world order. Nigeria's Foreign Minister General Ike Nwachuku emphasized the need to promote South-South as well as North-South cooperation. Yugoslav Foreign Minister Budimir Loncer, representing Europe, stressed that "the potentials for non-alignment were far from being exhausted."
Non-aligned states represent nearly half of the world population and two-thirds of the UN member states. The 10th Summit meeting of the NAM will take place in Jakarta, Indonesia, in 1992.
Cambodian Peace Breakthrough
The four-day formal meeting of the Supreme National Council of Cambodia (SNC) came to a successful end on August 30 in Pattaya, Thailand, after reaching agreements on several key issues.
Presided over by SNC Chairman Samdech Norodom Sihanouk, the meeting first reached an agreement on military arrangement in Cambodia, under which the four factions of Cambodia will demobilize 70 percent of their military forces and 70 percent of their arms, ammunition and equipment. This marked another major breakthrough in the comprehensive political settlement of the Cambodian issue.
The meeting also reached an agreement on the relationship between the SNC and the UN transitional authority in Cambodia, as well as a consensus on human rights and an agreement on elections, political system, and formation of political parties in Cambodia.
Beijing Symposium on New World Order
The Beijing Symposium on a New International Order took place in September with the participation of some 100 experts and scholars in international studies from about 20 countries and regions.
Li Luye, director general of the China Centre for International Studies, made an opening address at the symposium.
Chinese State Councillor and Foreign Minister Qian Qichen also addressed the opening ceremony. He said that countries may be big or small, strong or weak, rich or poor, but they are all equal members of the international community and ought to respect each other and treat each other equally.
However, he said that cases of disrespecting other's sovereignty, imposing one's will on others and even invading or annexing other's territories are hardly rare occurences. What China seeks to establish, he added, is a new international order which can reflect the characteristics of the current era and enjoy the endorsement and conscious compliance of all countries.
---
Palestinian Question in Vienna
A meeting on the Palestinian question attended by nearly 500 representatives from worldwide non-governmental organizations ended on August 30 in Vienna, Austria.
The representatives said that the solution to the Middle East problem lies in the hands of the Palestinians and no one has the right to deprive them of their right of existence. They strongly condemned the United States and Israel for delaying a speedy solution to the conflict by opposing relevant UN resolutions.
The delegates demanded unconditional acceptance by the United States and Israel of UN resolutions 242 and 338, calling for a solution to the Middle East problem, and Israel's withdrawal from occupied Arab territory.
---
China Respects the Soviet People's Choice
The Chinese government has, as always, maintained that the internal affairs of the Soviet Union should be handled by the Soviet people themselves.
This remark was made by Qian Qichen, state councilor and foreign minister, when meeting by appointment in Beijing on August 22 with N.N. Soloview, Soviet ambassador to China.
The ambassador conveyed President Mikhail Gorbachev's personal message to the Chinese leaders.
"We respect the choice the Soviet people have made, and we believe that with the resumption of President Gorbachev's duties, the good-neighbourly and friendly relations between China and the Soviet Union will continue to develop on the basis of the principles set forth in the 1989 and 1991 Sino-Soviet joint communiques," Qian said.
---
Chinese Premier Meets Kenyan Foreign Minister
Chinese Premier Li Peng said that China would like to exchange views and consult with Kenya and other African countries on how to establish a new political and economic world order.
Li made the remark at a meeting with visiting Kenyan Minister for Foreign Affairs and International Co-operation Wilson Ndolo Ayah.
Li said that he was satisfied with the smooth growth of Sino-Kenyan relations in the recent years. He expressed the belief that Ayah's current visit will promote co-operation between the two countries.