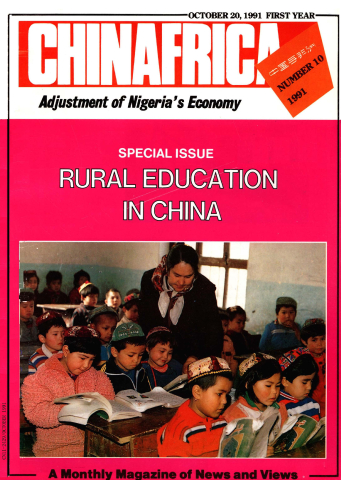 Directory Of Year 1991, Issue 10
Malian Women Take Their Future in Hand
Year:

1991

Issue

:10
Column:

CHINA-AFRICA
Author:

ZHAO JING
Release Date:

1991-10-20
Page:

17
Full Text: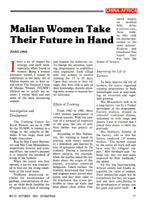 I have a lot of respect for courage and hard work, especially when found in women. Being a woman journalist myself, I cannot be indifferent to the daily life of Malian women nor to their social status. The National Union of Malian Women (NUMW) allowed me to satisfy my interest: I visited Mali and met some of the most interesting women.
Investigation and Development
The Training Centre for Rural Women, set up in 1980 by the NUMW, is located in a village in the suburbs of Bamako. It has large, clean and bright classrooms.
Run by Mrs Traore Halimatou and Mrs Cisse Moussokoro, respectively director and training officer, the centre's purpose is to improve the standard of living of the farmers.
When the centre was first opened, a survey was conducted to find out the living conditions in the rural areas.
Problems discovered included the accumulation of garbage, contamination of water, no child birth facilities for 45 square km, a lack of training and hygiene for midwives, etc. To change the situation, training programmes in midwifery were organized. Each village sent two women to receive training for 15 to 45 days. Upon their return to their villages, they were able to pass on their knowledge, thereby allowing more women to become better informed.
Effects of Training
From 1982 to 1990, about 1,053 women participated in various courses. With the creation of a network of midwives in the area, the rate of stillborn babies was greatly reduced.
According to Mrs Halima-tou, the training is based on practice, with theory reduced to a minimum and learned by way of questions asked by the students. During a discussion about malaria, for example, when the teacher asked the students about the origin of this disease, everyone answered mosquitos. Taken further, the students discovered that waste and stagnant water attract mosquitos and they then came to the conclusion that it was preferable to clean up waste and keep places clean rather than homes of farmers.
Improving the Life of Farmers
To help improve the life of farmers, the centre organized training programmes in basic technologies such as soap making, oil extraction and vegetable growing.
Mrs Moussokoro took us to a soap factory run by a former participant of the programme. Factory workers, dressed in colourful traditional dresses, welcomed us with songs and dances. I was so touched that I joined their dance to show my gratitude.
Mrs Habikaro, director of the factory, told us that her factory employed 110 women workers. "The women trained by the centre all work well and have won the villagers' respect," Mrs Habikaro said. "At home too, they are now more respected by their husbands," she added.
All this was heartwarming. African society had finally recognized the value of women. Their production might not be exceptional, but they are organized and their contribution to the development of society can but grow and assert itself.