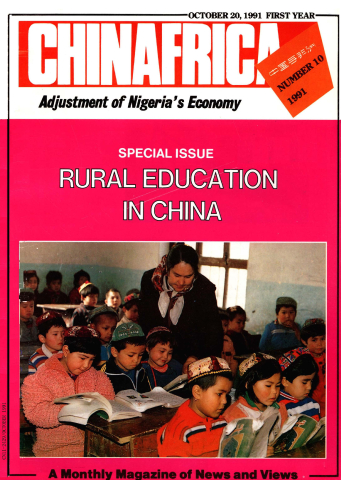 Directory Of Year 1991, Issue 10
AFRICAN PROGRESS
Year:

1991

Issue

:10
Column:

AFRICA
Author:
Release Date:

1991-10-20
Page:

12
Full Text:
AMU The African Mathematics Union (AMU) has urged African governments to take steps to improve mathematics teaching in the continent.
At a nine-day conference on mathematics held in Nairobi in late August, the AMU's president said that African governments should provide the necessary facilities for the teaching of mathematics at all levels of education.
Efforts should also be made to train primary school teachers who specialize only in mathematics instead of teaching several subjects at a time as is the case now, he added.
Ghana Ghana stressed the need for greater unity and coherence among developing nations to enhance their bargaining power on the international scene.
Opening a photo exhibition of non-aligned countries in Accra on August 28, a Ghanaian official said the worsening global economic environment posted dangerous warning signals that the North-South division "is significantly widening rather than narrowing."
"We need to co-operate not only in the political field but in the social and economic fields as well."
Kenya The Kenya Wildlife Service (KWS) will build fences and other barriers around game sanctuaries in the country to protect wildlife and farmers' properties.
In view of wanton killing of wildlife and serious damage to farmers' property by wild animals, a KWS official said in late August that his organization had decided to control wildlife damage and keep the animals inside sanctuaries.
He said that the KWS would spend 200 million shillings (about US$7.4 million) to set up electric fences and other barriers around all national parks, covering an estimated 2,500 km.
Namibia Namibia is exporting 15,000 tons of white corn to neighbouring Angola, according to Namibian President Sam Nujoma.
In a written speech read on his behalf by Namibia's information minister at a rally held in Windhoek on August 26, Nujoma said that Namibia had a good grain harvest this year.
Namibia imported grain from South Africa before its independence last year.
Nigeria Nigeria will set up export processing zones to promote foreign trade, reported Nigeria's News Agency.
Under a government decree issued in Lagos on September 5, the country's president will designate areas as export processing zones.
Any export processing zone may be operated and managed by a public, private or a combination of public and private bodies under the supervision of the Nigeria Export Processing Zone Authority to be established under the decree.
Tanzania Zanzibar's Chief Minister Omar Ali Juma has appealed to the governments of Swahili-speaking countries to develop the language.
Opening a ten-day workshop on the role of Swahili in primary education in Dar es Salaam on September 3, the chief minister asked the governments to ensure that schools were provided with adequate equipment and urged language experts to participate in preparing appropriate textbooks useful in any African country where Swahili is spoken.
Uganda Ugandan President Yoweri Museveni ordered on September 1 district administrators in his country to arrest any person found cutting trees in forests.
Speaking at a rally in Mpigi District, Museveni blamed the deforestation of Uganda on the use of wood as fuel.
Museveni said the government will work out plans to encourage people, especially urban dwellers, to protect forests from further depletion.
Museveni also appealed to the people living in the areas where there is no electricity to use bio-gas for their energy needs and reduce the demand of fire wood.
Zambia Zambian President Kenneth Kaunda predicted a remarkable improvement in Zambia's economy by 1993.
Officially addressing a meeting in Lusaka in late August, Kaunda said the country's economic recovery programme, supported by the World Bank and the International Monetary Fund, was on course and should help turn around the ailing economy by 1993.
"It.is our sincere hope that by 1993, Zambia will no doubt be in a better position economically," said the president on the same occasion.