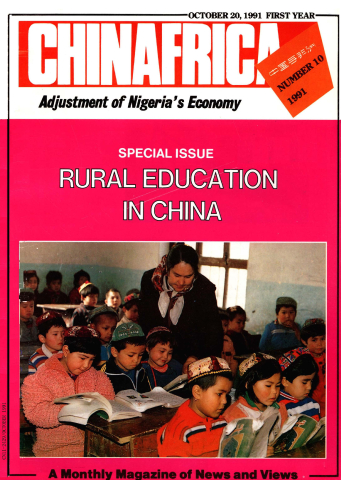 Directory Of Year 1991, Issue 10
The 'Prairie-Fire Programme'
Year:

1991

Issue

:10
Column:

SPECIAL FEATURE
Author:
Release Date:

1991-10-20
Page:

48
Full Text: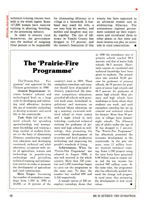 The"Prairie-Fire Pro-gramme" was approved by the Chinese government in 1988.
General Requirement: Increase farmers' cultural and technological level on a large scale by developing and reforming rural education; increase the use of scientific technology to develop economic and social life in the countryside.
Task: Make full use of the rural schools for spreading agrotechnology and management knowledge and training a large number of modern farmers on the basis of eliminating illiteracy, popularizing compulsory education and developing vocational, technical and adult education; co-operate with units of agriculture, science and technology in popularizing technology and providing technical training and information service in order to promote the development of agriculture and rural construction.
Main Target: Increasing the number of exemplary townships from 1,500 in 1990 to 10,000, or 14 percent of the country's total in 1995. These exemplary townships and counties should have eliminated illiteracy, popularized the nine-year compulsory education, provided all schools with practical work areas, formulated regulations and measures on technical labour education, set up a mainstay vocational technical school in every county and a night school in each township, conducted technical training for graduates of primary and high schools in technology, thus promoting the co-ordinated development of economy and local production technology and improving the people's standards of living.
Achievements: When the "Prairie-Fire Programme" was adopted in August 1988, it was well received in the whole country. More than 700 counties and 2,000 townships began to carry out the programme in the same year. To date, the number has reached 859 and 3,326 respectively.
A sample survey of 500 exemplary townships shows that in 1989 the attendance rate of primary schools reached 98.4 percent, and that of junior high schools 84.5 percent. Shortterm courses on vocational and technical knowledge have been given to students. The attendance rate reached 56.06 percent for graduates of primary schools, 64.79 percent for graduates of junior high schools and 64.5 percent for graduates of senior high schools. Most primary and high schools have workshops or farms where their students can work, and each exemplary township has set up cultural and technical schools for farmers. More than 50 percent of villages have farmers' night schools. The illiteracy rate of adults under the age of 50 has dropped to 7 percent. The "Prairie-Fire Programme" has effectively promoted the economic development in the countryside. In the past two years, some 12 million farmers received technical training. Some 1,790 projects using the state loans have generated 4.44 billion yuan in output value and the net income has reached 980 million yuan. At the same time, the programme also has effectively pushed forward the change and progress in rural areas, thus promoting the development of new social values.