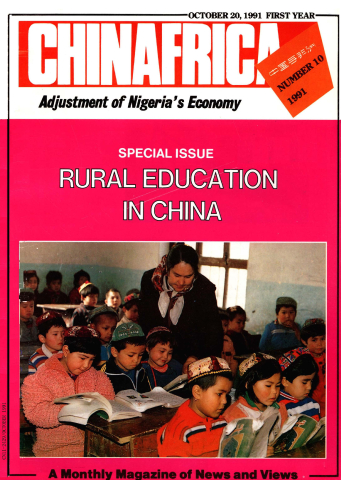 Directory Of Year 1991, Issue 10
Science and Education To Boost Agriculture
Year:

1991

Issue

:10
Column:

SPECIAL FEATURE
Author:

WANG XIANGTIAN
Release Date:

1991-10-20
Page:

34-36
Full Text: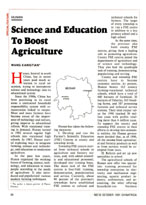 Hunan, located in south China, has in recent years paid much attention to rural education, trying to incorporate science and technology into its educational system.
Since the 1980s, China has been practising in its rural areas a contracted household responsibility system with remuneration linked to output. More and more farmers have become aware of the importance of technology and culture, giving impetus to educational reform. With vocational training in demand, Hunan turned in 1982 several regular high schools into vocational high schools. In 1987, Hunan started exploring ways to integrate farming, science and technology, and education to modernize agriculture.
In the past few years, Hunan organized the working forces of farming, science, technology, and education to train people according to the needs of agriculture. It also introduced and popularized various modern farming techniques.
Hunan has taken the following measures:
I.Develop and run the Farmer's Scientific Education (FSE) Centres at county and township levels.
Township FSE centres started from technical schools or agriculture and forestry stations, and, with added scientific and educational personnel, developed into training bases. The main task of the FSE centres is four-fold: training, demonstration, popularization and service. Currently, about 90 percent of the province's townships have established FSE centres or cultural and technical schools for farmers. The target of every township is to run a FSE centre in addition to a key primary school and a high school.
At the same time, the province also built county FSE centres, giving them a leading role in promoting agriculture. County FSE centres joined the departments of agriculture and of science and technology. They also had the quadruple task of training, demonstrating, popularizing and serving.
County and township FSE centres have to become economic entities. At present, Hunan boasts 162 county farming-vocational technical schools, which have a total of 600 hectares of farmland, 20 hectares of fisheries, 165 breeding farms, and 107 processing factories and technical service stations. Their total output value for 1990 reached 50 million yuan with profits totalling more than 6 million yuan. To support the county and township FSE centres in their efforts to develop into economic entities, the Hunan government decided that, as of 1990, all the income from agricultural and forestry products as well as from services would be exempted from taxes.
II.Reform and set up new specialties in school.
The agricultural schools of Hunan now offer two specialties: training personnel for township enterprises in electricity and mechanical engineering, aquatic product industry, architecture, and accounting; the other offering household-run business courses. In Hunan, a household tills less than 1 hectare of land. Farms engage both in land cultivation and livestock breeding, which, though small in scale, require various techniques. So the diversified economy specialty provides various technical courses to train people to this effect. This option has a larger enrolment than any other specialties, with students totalling more than 13,000.
III. Give full play to the leading roles of agricultural colleges, schools and research institutes in the development of agriculture.
Agricultural colleges, schools and research institutes should give support and guidance to the county and township FSE centres. Since 1986 the Hunan Agricultural College has been training teachers for agricultural schools of the province and compiling textbooks in specialized fields. Last year the college chose 12 agricultural schools or FSE centres at the county level as liaison spots for technical-instruction groups composed of professors and lecturers of the college to visit at regular intervals, to give technical advice and popularize scientific research results.
In 1989, the Anjiang Agricultural School worked in close co-operation with the Tong-mu Township, giving technical training classes to 2,290 students. The production increase due to new techniques made up 65 percent of the total production increase. The Anjiang Agricultural School taught farmers how to improve rice varieties by hybridization through which they netted a profit of 120,000 yuan.
IV. Strengthen the contingent of agricultural, scientific and educational workers.
The province decided to give a strict qualification test to the personnel specialized in science and technology, medicine, accounting, architecture, machine-building and electronics industry. Those who pass the test are given a certificate, and those who fail lose their job. Those who fail are expected to take the test again within a specific period of time. The vacancies left from failures to pass the test are filled by college graduates or graduates from vocational schools. This ensures the level of technicians and gives priority to agricultural school graduates. Graduates engaged in farming are to set up their homes as science-technology households. They are to be given preferential treatment in loans and materials when contracting land, fish farming and tree farms.
V. Strengthening the leadership system of integrating education, farming, science and technology.
The Hunan provincial government pays much attention to joining agriculture and science with education. It has set up a leading group headed by a deputy governor and composed of responsible cadres of the provincial commissions of science, education and agriculture, as well as from the finance departments, the agricultural bank, and the supply and marketing co-op. Corresponding leading groups were set up in prefectures, cities, counties and townships. Each organ has its specific duties. For instance, agricultural departments are responsible for providing specialized teachers, raising part of the school funds, making enrolment plans, setting up experimental grounds and buildings and giving guidance and support to technical school graduates seeking employment; educational departments are responsible for providing general school teachers, supplying regular grounds, facilities and educational funds, giving guidance to school educational administration, and evaluating the quality of school management; scientific and technological departments are responsible for providing and popularizing scientific and technological information, providing financial assistance, and raising FSE development funds through different channels. Provincial, prefecture and county budgets all set aside special funds for promoting agriculture through science, technology and education. As of 1991, the provincial budget sets aside every year 3 million yuan for FSE special assistance, in addition to setting up a 6.9 million yuan in special fund for vocational training and a 5 million yuan production circulation fund. Counties and townships have also set aside part of their funds to subsidize the building of FSE centres.
Hunan has taken positive and stable steps to develop science and technology and education in the countryside.
The author is deputy governor of Hunan Province.
---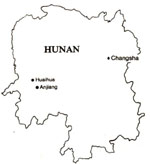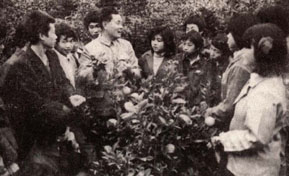 Students from the Agricultural Technical Secondary School of Xinshao District have class in an orchard. XIN HUA