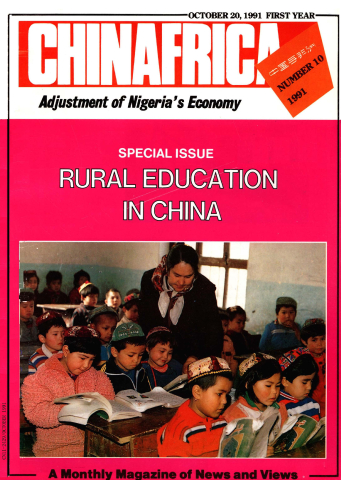 Directory Of Year 1991, Issue 10
A Far-Reaching Education
Year:

1991

Issue

:10
Column:

SPECIAL-FEATURE
Author:

TAI JIAO
Release Date:

1991-10-20
Page:

31-33
Full Text: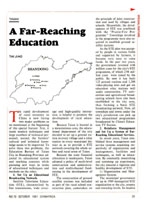 The rapid development of rural economy in China is now facing two major problems as we mentioned at the beginning of this special feature: first, it needs modern techniques and large numbers of technical personnel; second, the farmers' cultural and technical knowledge needs to be improved. To solve these two problems, the Education Bureau of Taian City in Shandong Province adjusted its educational system and teaching contents while pursuing new ways in terms of educational techniques and methods on the other.
1. Set Up an Educational Broadcasting Network.
Satellite Television Education (STE), characterized by fast transmission, wide coverage and high-quality instruction, is helpful to promote the development of rural education.
Because Taian is located in a mountainous area, the educational department of the city decided to set up a ground station in every village and a relay station in every municipal district so as to provide a STE network covering the whole urban and rural areas of Taian.
Because the state financial allocation is inadequate, Taian adopted a policy of multi-level construction and administration and multi-channel fundraising in the development of STE.
The construction of ground satellite stations was included as part of the rural school construction plan, undertaken on the principle of joint construction and used by villages and schools. Meanwhile, the development of STE was combined with the "Prairie-Fire Pro-gramme." Townships involved in the programme were also required to establish ground satellite stations.
As the STE plan was accepted by people in various fields and supported by farmers, it became very easy to raise funds. In the past two years, the government invested 4.06 million yuan for the city's STE programme, of which 2.98 million yuan were raised by the public. By now it has built 125 ground stations and 1,200 video-playing sites and got six education relay stations well under construction. TV universities and agricultural broadcasting schools have also been established in the city area, thus forming a basic STE broadcasting network. Now, all townships and towns under the city's jurisdiction can pick up two educational programmes broadcasted by China's Education TV Station.
2. Reinforce Management and Set Up a System of Far-Reaching Educational Services.
In recent years, Taian established three management and service systems consisting respectively of organization and management, facilities and techniques, as well as education. By constantly researching and summing up experiences, the city ensured a vigorous and healthy development of STE.
1) Organization and Management System.
The municipal government set up in 1989 managerial STE organization at the city, county and township levels. Its leaders are in charge of education and administration in different departments, and its staff includes people in charge of electrification instruction, vocational education, adult education, general education and the training of teachers. The organization took charge of organizing and co-ordinating all the STE work, as well as drawing up and carrying out the plan of its development.
2) Facility and Technique System.
In order to strengthen the administration of the STE's relay station network, Taian has set up a three-level managerial system of broadcasting educational facilities and techniques, including the city's audiovisual educational laboratory, the counties' audio-visual stations and the townships' audiovisual groups. Regulations on STE management promulgated by the city government require every station to co-ordinate personnel, facilities, software and regulations, and to hold regular examinations and appraisals.
3) Educational Administration System.
In order to effectively carry out a far-reaching education, Taian developed and perfected four kinds of educational and teaching systems. The four include a regular training system for teachers; an educational system for social labourers, both employed and unemployed, focusing on academic education and professional training; an education system mainly to train key technical personnel and spread applied techniques in rural areas; and a broadcasting educational system to popularize advanced educational ideas and teaching methods among primary and secondary schools.
3.Serve the Implementation of the "Prairie-Fire Pro-gramme" and Rejuvenate Rural Economy.
The main purpose of developing STE education is to serve all forms of education in the countryside, spread scientific and technological knowledge, and revitalize the rural economy. In the last few years, Taian has made noticeable progress in this regard. Major work done includes:
1) Providing Education for Training Teachers.
Since 1986 Taian has man-aged to provide academic training to more than 2,200 primary and secondary school teachers. Currently, more than 3,000junior high school teachers are studying at the National TV Normal College. Meanwhile, 1,500 professional teachers have been trained through STE for rural adult education and technical secondary education. For example, teachers specializing in livestock farming in the Ningyang County Technical Secondary School grasped advanced pig-raising techniques through the STE training programme and spread the method throughout the county. The project alone increased the annual income of the farmers in the county by more than 1 million yuan.
2) Providing Preemployment and On-the-job Technical Training.
Since 1986, some 11,000 vocational school students have received technical training and 6,900 cadres and technicians received further education,5,000 of whom got academic qualifications and 1,900 of whom got technical secondary school certificates. Currently there are still 2,300 students following university and college courses and 2,200 students taking polytechnic school courses. At the same time, the government has conducted on-the-job training for 1,200 managerial cadres in agriculture, forestry and water conservancy, 1,950 technicians of township enterprises and 500 rural legal cadres through STE.
The Xinwen Town in Xintai strengthened technical training for cadres and workers and the output value of its township enterprises is over 100 million yuan. In Laiwu District, 808 managerial cadres and technicians have since 1986 received training through STE programme in science and technology. This helped to rejuvenate the local enterprises. In the last two years, 140 new products have been developed and 58 technical innovations were completed by township enterprises. In 1990, the gross output value of the district's industry and agriculture totalled more than 200 million yuan.
3)Spreading Modern Techniques Among Farmers.
Laiwu Town, in accordance with the requirement of the "Prairie-Fire Programme,in towns and townships invited agricultural and forestry technicians as well as individual farmers to produce various educational videos, which were shown through STE centres in various towns and townships. This is aimed at popularizing science and technology among the farmers.
In the last two years, Taian has provided technical training through STE programmes for more than 300,000 young and middle-aged farmers, 10,000 rural technicians and over 60,000 junior and senior high school graduates. More than 50 major applied techniques such as "prescription for fertilizer application," "cubical planting" and "scientific raising" are now widely used. As a result, rural education has entered a new stage and greatly speeded up rural economic development.
Wenyang Town in Feicheng County has made full use of STE in spreading scientific farming techniques and greatly pushed forward the increase of grain yield. In 1990, about 3,300 hectares of good farmland produced a per hectare yield of 15 tons a year.
Ningyang and Dongping counties spread the techniques of planting vegetables in large plastic canopies through STE and greatly raised the production of vegetables.
Experiences of the past several years have brought home to people that it is both necessary and practical to establish far-reaching educational system in line with local conditions. The system can not only serve basic rural education but also provide cultural and technical training opportunities for farmers. For the over-populated countryside it has proved to be an economical, high-quality and effective educational form.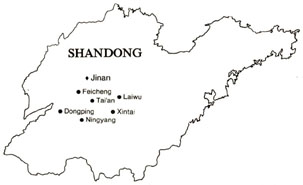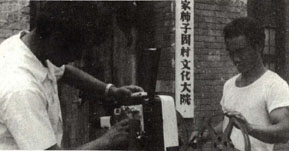 Films are used to popularize science and technology. LIU LINA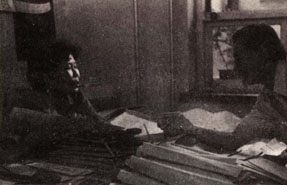 Staff members of a TV university preparing teaching material. LIU LINA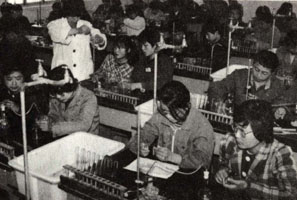 An experimental class. XIN HUA